Posts Tagged morons
Apparently we're all supposed to be trembling in our boots because delusional prophet theistard David Wilkerson thinks that bad stuff is about to happen. He's written an AN URGENT MESSAGE:
I am compelled by the Holy Spirit to send out an urgent message to all on our mailing list, and to friends and to bishops we have met all over the world.

AN EARTH-SHATTERING CALAMITY IS ABOUT TO HAPPEN. IT IS GOING TO BE SO FRIGHTENING, WE ARE ALL GOING TO TREMBLE – EVEN THE GODLIEST AMONG US.

For ten years I have been warning about a thousand fires coming to New York City. It will engulf the whole megaplex, including areas of New Jersey and Connecticut. Major cities all across America will experience riots and blazing fires—such as we saw in Watts, Los Angeles, years ago.

There will be riots and fires in cities worldwide. There will be looting—including Times Square, New York City.
[The caps are all his. Seriously]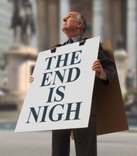 Oh noes! New York City is going to burn! And New Jersey! Wait, is destroying New Jersey a bad thing? Anyway, this whackaloon is spouting his doomsday premonitions like the archetypical loony standing on a street corner with a sandwich board raving about the coming destruction. This would be mildly amusing, perhaps even a little sad, except that people are believing him! This incredibly gullible reporter (and I use the term extremely loosely) for the World Nut Daily, Janet Porter, is telling the world to HEED WILKERSON'S MESSAGE! Because he's already gotten it right once before:
In the fall of 2001, Pastor David Wilkerson, of Times Square Church in New York City, was warned by God that a calamity was coming. For six weeks they felt an intense burden and enormous heaviness. A critical need for intercession was so profound that Pastor Wilkerson canceled everything on the church calendar – mission's conferences, youth events and every guest speaker.

For six weeks, there wasn't a sermon. Instead, there was intercession for our nation with weeping and repentance. They knew something was coming and that something was bad. And that something was soon. So they prayed. And prayed … and prayed.

Then Wilkerson felt God telling him something that seemed rather bizarre. He felt God telling him to make sandwiches – lots of sandwiches. What were they for? Who would eat them? That part wasn't clear, but his church did what they believed God was telling them anyway.

And on the 10th of September they stayed up all night making hundreds and hundreds of peanut butter and jelly sandwiches. By morning they had about 2,000 sandwiches. At 8:46 a.m. the first plane hit the World Trade Center and Times Square Church was ready to feed and minister to rescue workers and victims of our nation's worst attack.
What an impressive display of god's power: to be aware of an attack on an innocent city by terrorists that would kill around 3,000 people, and he warns one loony preacher to make fucking sandwiches. Come on, is that the best you can do? Really?
So I have to check this out. I mean, something this retarded amazing, it's got to be all over the intertubes, right? Yup, this story is burning up the forums of the end-timers, rapture-watchers and other assorted and sundry evangelicals. What I was really looking for was confirmation of the sandwich story. Turns out, there isn't any. Wilkerson has nothing about it, the church has nothing about it. At least the usually gullible end-timers have been burned by prophesy enough to be at least a little bit skeptical. Paul Grabill, Lead Pastor of State College Assembly of God, State College, PA actually contacted the chuch for confirmation.

Update: I called Times Square Church (since there was nothing on the website). Everything in the World Net story is true, except the most sensational element–they did not make sandwiches before the fact; they made them after the fact. Rather than take down this post, I figured this clarification would be helpful to all. I'm still praying about what, if anything, I might say on Sunday. I had a stirring on Monday about it, and I'll probably go with my gut
Prophesy FAIL! There's a big difference between providing food for 9/11 workers after the attacks and claiming that you had foreknowledge of it and prepared ahead of time. Either Janet Porter is a fracking liar (which wouldn't surprise me, considering she writes for the WND) or else she's just passing on other lying shitheads' stories with out bothering to do the bare minimum of looking for even the slightest bit of confirmation. Either way, it makes for a big old JOURNALISM FAIL. But that really goes without saying. After all, we're talking about the WorldNutDaily.