Posts Tagged idiots
I don't usually read the tripe over at the Framing Science blog. Matthew Nisbet spends too much of his time whining about how the "New Atheist movement" is offending the religious folk and how science should bend over and take it up the ass from the theistards who want to inject their fantasies into science, all in the name of "working together" and "finding common ground". For some reason, he seems to think that pointing out the absurdities inherent in the beliefs and actions of the religious is disrespectful to religion. We shouldn't go confronting those who make absurd claims with absolutely no proof, even when we are possessed of a plethora of evidence to the contrary; evidence obtained through science.

PP
Anyway, as I was perusing the posts on Science Blogs, the title of a post from Nisbet caught my eye: Words of Advice for Atheist Literalists (and Many Bloggers). Naturally, being a blogger and an atheist, this made me curious. What advice would Nisbet offer? Turns out he was sharing some wisdom from Rick Weiss; a quote from an op-ed piece Weiss did for the Washington Post.

While Darwin himself never took his findings as definitive evidence against the existence of God, many people of faith have read that conclusion into his work. As a result, the man who first grasped biology's most unifying concept is today widely demonized as an enemy of the church, even as many scientists and others make a similar mistake and invoke Darwin in their rejection of everything theological…

…Darwin's humility in the face of insufficient evidence — his willingness to say "I don't know" — is as important a lesson as any to be found in biology texts today. This is not about "teaching the controversy" — Darwin had a slam-dunk in his explanation of the evolution of species, including humans, and every modern test of evolutionary theory has only strengthened his conclusions. But he also knew there is plenty of room for God at the top, upstream of the business of biology.

Soldiers in today's culture wars, whether in black collars or white lab coats, could take a tip from Darwin on his birthday bicentennial. He loved the natural world, "most beautiful and most wonderful." And he knew enough to not pick fights over what he did not know.
I felt compelled to leave a comment at Framing Science which, apparently is still stuck in moderation. So I'll go ahead and repeat it here.

I'm not sure exactly to whom Mr. Weiss is offering advice to. I believe that you'll find that most atheists, the vast majority, do not empirically state that there is no god. Our position is that the likelihood of a god existing (especially a god as depicted in most religious texts) is so vanishingly remote that for all practical purposes we feel quite confident that there probably is no god. Nothing in science can be proven to absolution but that is no reason to create a supernatural explanation to cover up the fact that we don't yet know the answer.

In addition to that, I think you'll find that most atheists would be quite willing to change their position if sufficient evidence were to be brought forth for the existence of a god. I seriously doubt that you'll here a similar claim from the other side.

Darwinian evolution is just one small piece in the vast collection of evidence disproving the existence of god. It is a tremendous piece of work, but taken against the whole, it factors very little in my decision to be an atheist. It seems to me that the ones making the most strident assertions that Darwin == atheism are the theists who feel threatened by the analysis of the natural world that Darwin did and his discovery of a natural explanation for a process that formerly had only been described by supernatural stories.

As far as picking fights over what he did not know, the only ones I see doing that are the theists.
And Nisbet too. Talk about picking fights; offering unsolicited "advice" is a very quick way to piss people off. What a horses ass.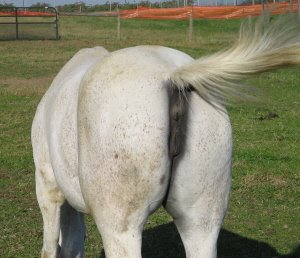 We all knew that, why is that news? This is not my usual mentally-sick sickness I'm talking about. You know, the sickness that manifests in inappropriate jokes, black humor, snarky comments, biting sarcasm, et al. No, my sickness this time is caused by a little thing known as a virus. I've got a cold flu black death. I'm dying. All right, technically we're all actively engaged in the process of dying. And the intellectual part of my brain is telling me that I'm not going to die anytime soon, much less because of this little bug. But that's not what my body says.
Except, viruses don't exist. The germ theory is an illusion. I have seen the light, and it comes in the form of the blinding stupidity of one Robert O. Young who tells us:

One must challenge everything in the modern construct of
immunology and what is said to be the immune system. The basis of modern immunology is founded on Louis Pasteur, the fraud, impostor, deceiver and self promoter. There is a serious problem to where every word and part of the anatomy must be questioned to find their use and function because of the fraud of Louis Pasteur.
I mean, how can one deny the brilliance of his logic when describing influenza:

For example, the word influenza means influence. Originally, influenza was said to come from the stars or heavens. The Avian Influenza is an influenza of a bird influence. More specifically, it is an influence of bird waste. The bird consumption industry in Southeast Asia is overcrowded to the point that the chickens are consuming their own waste, producing an over-acidification of the birds and workers that must work in the acidic air and waste.

It could be more accurately called Acidic Bird or Chicken Excrement Influenza that is only contagious to those consuming acidic birds, like chicken or breathing chemically altered air from chicken excrement. Because chickens do not have a urinary tract system, like humans and animals they are more likely to absorb their own acidic urine into their tissues. I guess you could say that's what makes chicken flesh or turkey flesh taste so juicy and why chicken or turkey flesh should never be consumed by humans!
Ahhh, the stupid, it burns more than the fever coursing through my body caused by the non-existant virus:

The word virus is originally Latin meaning poison, as in snake venom, (being too acidic). When a serious snake bite releases venom or acid into the skin and soft tissues, the small sweat vessels become so enlarged that red corpuscles can flow into the tiny seat glands, showing red skin patterns and allowing the venom or acids to escape through the skin. Acidity dissolves and enlarges blood vessels for the movement of acidic fluids or gases. Alkalinity constricts and normalizes the blood vessels.

The point being that viruses are molecular liquids or gases (venom) that can be created by chemical imbalances in humans, plants and animals (by malnutrition or toxic acidic food and/or drink consumption), also created in humans, plants and animal glands, sometimes used in defense (snake venom) or emergency (overactive adrenals), also can be crystallized in laboratories, rarely, if ever crystallized in vivo, and foolish to call viruses contagious when viruses are nothing more than acidic liquids or gases from biological transformation or rotting matter.
The brilliant "scientist" leaves us with these thoughts to ponder:

As you contemplate the cause of the flu, cold or any so-called infection, may I suggest that each of us take personal responsibility for the consequences of our choices, rather than blame a phantom Avian Influenza virus, cold virus, flu virus, cancer virus or some non-existent HIV virus. If you get sick, it is your own fault and not the cause of some phantom virus that you can blame to cover your own lifestyle and dietary transgressions. Save your money and save your life by making alkalizing and energizing lifestyle and dietary choices. This is where true immunity is found — not in a vaccine or a drug which are all acidic and poisonous to the body but in living an alkaline lifestyle.
Sigh. So much for my attempts to lay the blame at the feet of microscopic little buggers for my illness. Instead it's because I had that glass of lemonade.
Many thanks to Orac for introducing me to the truth about germs.