Posts Tagged crisis
This post by Sara over at Orcinus hits the nail squarely on the head. Sometimes I have to wonder if a certain political party has been hit squarely on the head as well.
Dear Conservatives:

Your fellow Americans demand an answer — and we want it now. Just one simple question:

Are you deliberately trying to start a civil war?

Just answer the question. Yes or no. Don't insult us with elisions, evasions, dithering, qualifications, or conditional answers. We need to know what your intentions are — and we need to know NOW. People are being shot dead in the streets of America at the rate of several per month now. You may not want responsibility for this — but the whackadoodles pulling the triggers make no bones about who put them up to this.

You did.
Damn straight. This shit's starting to get scary out there. I talked a while back about the possibility of Civil War v2.0. Are we witnessing the next Fort Sumter? Canada's looking better and better. Ok, not really. Too damn cold. But you know what I mean.
Posted by CyberLizard in Uncategorized on April 21, 2009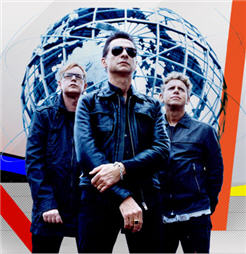 Depeche Mode has a new album coming out today, Sounds of the Universe! Even better, they are touring the US! I haven't missed a Depeche Mode concert since Violator. I was unbelievably stoked when I heard they were coming. Then I saw the dates they would be in Florida: September 4th and 5th. Can you spot the problem? Don't worry, I didn't see it either, at first. Then I realised the horror:
That's the weekend of Dragon*Con!!!



WTF am I going to do? To make it suck even harder, they are playing in Atlanta, which is where Dragon*Con is, on September 1st. So it looks like there's no way I can do both.
FML