Archive for November 24th, 2008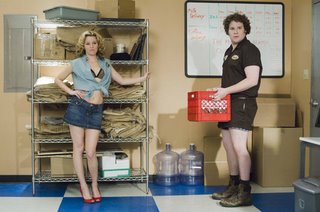 So Mrs. CyberLizard went out a couple of nights ago with a girlfriend to see Zack and Miri Make a Porno. She came back raving about what a fantastic movie it was and how I had to go see it with her. Apparently it's a Kevin Smith movie, a fact I had somehow missed. Since I thoroughly enjoy his films, I agreed and we secured a little Lizard sitter last night and snuck out to catch the 9:45 showing at the local mall theater. After grabbing a popcorn and a coke, we get into the actual theater at approximately 9:47, expecting the previews to have started. Instead, the lights are on and the screensaver image is up. After a couple of minutes, I go to find out what was up. I was told that they were finding someone to start the movie. Um, ok… one would have thought that the presence of the required personnel would have been secured prior to the actual start time of the movie, but, whatever.
Finally, the previews start rolling and we sit back, expecting to laugh our asses off. Then the film starts. We did indeed laugh our asses off, but not at what we expected.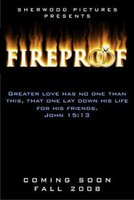 Instead of a raunchy, hilarious, offbeat movie about people making a movie of people fucking, we get to start watching
Fireproof
.
Now, in case you missed the hype (I, myself, had only heard about it third-hand), this is a new movie featuring Kirk Cameron. It's a Christian morality tale about how Jesus can save your marriage. We come to see the hilarity surrounding the making of bad porn and instead we get preached to? Can you say
WTF
?
From the first moments of the film, the entire audience was cracking up. I haven't seen dialog and acting this bad since the days of high-school theater. Actually, that's insulting to my high school theater. This was
bad
. Have you ever watched bad porn? I mean really bad, cheap porn? That was the kind of acting and writing I'm talking about. This thing would have been too crappy for an after-school special. It made Hallmark TV movies seem like blockbuster Hollywood features by comparison.
I couldn't resist. From the first lines, I was
MST3K
-ing the hell out of it. This film would have been right at home up on the Satellite of Love. Here are some brief reviews from
Rotten Tomatoes
:
Fireproof isn't merely preaching to the already converted; it's helping to further alienate the unconverted and the skeptical.
People like Kirk Cameron apparently require Scriptural instruction about how to not act like a complete **** to your wife.
The writing and directing Kendrick brothers, Alex and Stephen, have raised blandness and narrative predictability to the level of high art.
And my personal favorite, which is almost identical to what I was thinking during the few minutes I was forced to endure this "movie":

With the production values of a straight-to-video cheapie and the script of a mediocre soap opera, Fireproof is good for just about one thing: dousing whatever flames might be left in your marriage.
I was having so much fun heckling the piece of crap that I was tempted to just keep watching. Instead, I decided that I wanted to actually get some value for my money and see the movie that I had chosen. So after I and numerous other people complained, the manager shows up and apologizes. It's too far into the movie, she says, I can't change it. WTF?!? She then goes on to explain that it is too heavy, she can't physically switch the movies. I immediately volunteer to assist, but that idea was shot down. Instead, they're going to give us double free tickets. Oh, and as a bonus, they can move us to a different theater and show us Role Models.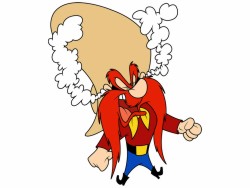 Actual picture of me raging
Now, I'm not normally a confrontational person IRL, but I'm pissed off. Outside the theater, the manager is waiting with our comp tickets.
Me:

Do you have any idea how hard it is to get a babysitter so that my wife and I can come out to watch a movie?

Manager:

I'm sorry, sir, I've got double comp tickets here for you.

Me:

What, so I can come back to this place and have you screw it up again?

Manager:

These tickets are good for any Regal Cinema's, sir. Here you are. Have a good evening.
Do you remember Yosemite Sam muttering all kinds of unintelligible curses under his breath as he stalked away? That would be me as I stomped out of the theater.Maybe I was a little rough on her, but dammit, she's the manager. If one of my team fucks up, who's fault is it? Mine. My boss is going to chew off a piece of my ass. That's what we manager-types are for.
Mrs. CyberLizard is none too pleased with the situation either. With a determined look on her face, she marches back out to the van. There's another showing of the movie in 10 minutes at another theater nearby. We are damn well going to go see it
AND
bring our popcorn and soda in with us. And nobody better fuck with us about "outside food and drinks".
Tune back in tomorrow to see if the CyberLizard finally saw "Zack and Miri Make a Porno" and to find out how many times he can use "fuck" in a sentence.
P.S. Credit where credit is due, this all took place at the Regal Cinema at the Seminole Town Center in Sanford, FL.